…..Telling it like it is
Charleston
September 11
USS Liberty, to get the US to declare war on Egypt
JFK assassination; Lyndon Johnson was a half-Jew and wanted Israel to get The Bomb
"He said, 'One day I'll do something that will change the system, and then everyone will know my name and remember it'."
He had also been mocked by colleagues for once working as a "trolley dolly" air steward and dubbed Tomato Andy, a gay slur.
It came as chilling recordings from doomed flight 9525 revealed its captain's desperate final bid to regain control of the plane.
Patrick Sondheimer screamed "open the goddamn door" at crazed Lubitz as he plunged the airline into the mountains.
Investigators are working round the clock to test and sort body parts from the 150 people killed.
One of three Americans killed, Emily Selke (along with her mother Yvonne); Emily had graduated in 2013 from Drexel University in Philadelphia with a music major.
David Burke was a violent abusive man who fathered 7 children out of wedlock with multiple "baby mommas". And, make no mistake, he hated White people. We can imagine the great delight which Burke took in blowing that White Flight Attendant's brains out, just after offing Mr. Thomson, and just before blasting the White pilots.
.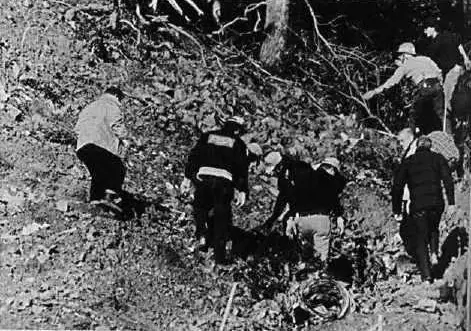 A comrade said her father was probably Jewish.

John D. Nugent

Maybe…. banking….

https://www.linkedin.com/in/parkerandy

Even if true, and I do see New York City in the resumé, and show-business, well, blacks kill Jews all the time, not knowing or caring if they are Jewish, and I still have no proof he or she is.

.

I talked to a fmr cop in South Africa and asked him how Jewish women were faring in the post-apartheid period. H said the blacks rape them just like the regular whites.

..

View Andy Parker's professional profile on LinkedIn. LinkedIn is the world's largest business network, helping…

John D. Nugent Could be a Jew by his looks:http://i.dailymail.co.uk/…/2BB5AAF800000578-3214189…

John D. Nugent

Since his career seems to have begun in NYC, and due to the theater, acting and banking connections, he may well be a Jew.

John D. Nugent

If so, a black killed a half-Jewess. 

And the other point is he considered her to be white and straight.
….Life goes on because having many lives is a FACT
http://www.johndenugent.com/reincarnation-evidence/
…..to donate to my work
http://www.johndenugent.com/donations-log/
Financial transaction certified by Stripe.com and SSL certificate. Pls donate $5 or more. Thank you!
[spt_paybutton text="Donate Now" comment="false" service="false" amount="5.00″ design="40″ lightbox="true"]
I KNOW A FANTASTIC PRO-DISSIDENT WEBMASTER & WEBHOST IF YOU NEED ONE AND CAN PAY A REASONABLE $100/MONTH — BACKUPS; ANTIVIRUS; FAST PAGE OPENING; SEARCH ENGINE RANKING; YOU NAME IT. Write me if interested.

This log is to confirm to those who send me useful items –cash, valuable coins, checks
, money orders, books or other gifts — that I did receive them. (I formerly listed all donations by amount, but this has proven unwise for a number of reasons, and I changed my policy in March of 2015.)
If you sent a donation and I did not get it, please let me know at the email address john_denugent@yahoo.com, at thejohndenugent@gmail.com, or by calling me at (906) 884-6689, or writing me (see below) on Skype or Facebook!
John de Nugent
306 S. Steel Street
Ontanagon MI 49953
(906)

88

4-6689
Facebook: John D. Nugent
Skype: John de Nugent (Ontonagon)
JOHN_DENUGENT@YAHOO.COM
THEJOHNDENUGENT@GMAIL.COM
Twitter at John de Nugent @johndenugentESA

I had to take this springtime pic before I cut the lawn. 😉
2 MILLION hits on Google