To three comrades flaming online at each other:
Gentlemen:
.
Margaret and I translated from the French the entire memoirs of General Leon Degrelle of the Waffen-SS, the most highly decorated of the 400,000 foreigners in the greatest military formation ever created.
.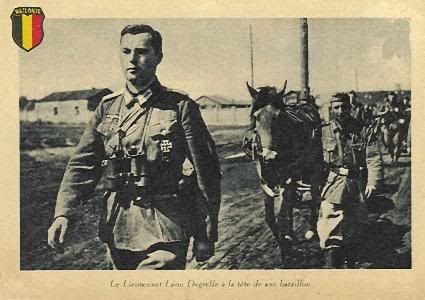 Degrelle knew both Mussolini and Hitler well.
.
I want to give you young men, each doing good, but each now fighting his brother, his insight as to why WE (the white race and national socialism) lost the war.
.
In the summer of 1940, Mussolini was insane with hurt ego over the fact that his Axis partner, Germany, had defeated Poland, Norway, Denmark, Holland, Belgium, France and Britain. (Hitler let the encircled British escape at Dunkirk as a peace gesture.)  So Mussolini attacked Greece in Ocxtober 1940 so he could have a conquest too. 
 .
The outraged Greeks, who had been bothering nobody, fought back like lions, and kicked the Italians back into the sea.
.
But now the entire German war effort was in dire peril.
.
Instantly, Churchill began landing British troops in Greece and building an airbase from which he planned to bomb and annihilate the German oil refinery at Ploiesti, Romania, a few hundred miles further north.
 .
 .
That would have ended the war right there.
. 
Hitler thus HAD to postpone his invasion of Bolshevik Russia by six long weeks, send his crack panzer armies through the mountainous Balkans, chewing up the engines, transmissions and tank treads of his tanks, and go fight the innocent Greeks, who had merely been defending their country from the ego of Mussolini.
.
What the heck were the Germans doing in Greece? Protecting their oil refinery up the road.
.
Not only did this use up thousands of his best tanks for nothing, but it meant that when Hitler did attack Russia in June of 1941, because of the six-week delay, he could not achieve ANY of his military objectives before the first Russian snows fell.
.
.
And that, indirectly, is why we lost the war, ego, and why, in the end, now we see blacks raping our white girls today on the streets of America, and homosexual "fisting" being taught to our white elementary school children in our public schools, because we lost the war because of the ego of Mussolini.
.
We need to either cooperate, or to respectfully disagree, and each fight the Jew separately in our own valuable way.
. 
Ego causes suffering.
.
I am issuing a final call up on all three of you, if you respect me and the needs of our race, to not resume this war.
.
JdN
.