Marine Le Pen needed the conservative Catholic vote, but she lived "shacked up" with her Jewish lover, Louis Aliot, a lawyer. She also changed her position on abortion and gay marriage, and wobbled on leaving the EU and promised only a referendum after six months on the euro currency.
Was there really massive, as in election-changing, vote fraud against Le Pen? I am not sure.
1) First, Macron led her by 20% in every poll (not like the Trump-Hillary race, where they really were neck-and-neck). Just as in 2002, when her father Jean-Marie ran, the entire Establishment — left, right and center, plus the entire media — united against the "anti-EU, rightwing extremist."
2) Were millions of ballots (or "just" thousands) spoiled by the government authorities? Not sure.
.
.
Even Le Pen did not claim the spoiled ballots were spoiled by the authorities.
.
Apparently tearing the ballot is the French voter's way to protest and say "I do care, so I cast a vote, but I can vote for neither, so I spoiled the ballot."
.
I will add that the real WNs in France were very upset with Le Pen for reversing herself and accepting gay marriage, abortion "rights," for living shacked up with her Jewish lover, Louis Aliot, a lawyer….. her "Jared Kushner"and minder.
.
….and for expelling her own father, Jean-Marie, out of the party he had founded and led for 40 years. So one cannot assume that Marine got a massive turnout even of the "white wing."
😉
.
.
The crypto-WN ("crypto" due to hate-speech laws) national weekly newspaper Rivarol basically said she was just nasty in her debate with Macron… a real sign of our vulgar times:
"A banker in the Elysee [palace, the French White House or 10 Downing St], Marine le Pen atomized [pulverized]" 
.
.
The opposite [of the debate with Macron helping her] has occurred. Polls on the eve of this duel [debate Macron-Le Pen] indicated voting intentions [for her] around 40 to 41% for the president on leave of the National Front.
.
And after this debate Marine Le Pen ends up with 33.9%.
.
The debate caused her to lose seven points, which is considerable.
.
For two and a half hours she showed all of France her true face: an unbearable vulgarity ("drink some" [wine]; things will go better," she dared to say with rare elegance [sarcastic] to Macron), incompetence, and an abysmal lack of culture, and the stupidity of a charging bull, matched only by her scornful ridicule, grotesque grinning, sudden movements in her chair, an incredible casualness at this level and
stage of the competition, a permanent and odious laugh, and a stunning doctrinal void.
.
With her fishmongering manner, her lack of class and irresponsibility, she managed the considerable feat of presidentializing her opponent, who while dull at first, in this duel remained calm, dignified, pedagogical, professorial, mastering his subjects and patiently expanding on his projects while Marine Le
Pen had really nothing to say, and nothing with which to oppose him.  She did nothing but manipulate her invective, whic was as aggressive as it was sterile.
.
Not a word about immigration and demography,
French national soccer team in 2017
not a word about the Great Replacement [of the French people by non-whites], or about the family, about [our] identity and safety,
Bataclan nightclub — 130 murdered

Nice — 89 crushed by a truck on their national holiday, the 14th of July 2016

…..not a word about the defense of [our] civilization, or concerning the immense issues at stakes in this election, or with regard to the serious dangers to the survival and sustainability of our country.
She thought stupidly that by dint of barking, it would destabilize her opponent who would come unhinged. It is in fact she was was discredited. It is never wise to underestimate an opponent.
French original:
C'est le contraire qui s'est produit. Les sondages à la veille de ce duel indiquaient des intentions de vote autour de 40 à 41 % pour la présidente en congé du Front national.
Et après ce débat Marine Le Pen finit à  33,9  %. Le débat lui a fait perdre quelque sept points, ce qui est considérable.
Pendant deux heures et demie elle a montré à la France entière son vrai visage : une insupportable vulgarité (« buvez un coup, ça ira mieux » osa-t-elle dire avec une rare élégance à Macron), une incompétence et une inculture abyssales, une bêtise à  front de taureau qui n'a d'égale que son mépris ricanant, ses rictus grotesques, ses mouvements brusques sur sa chaise, une incroyable désinvolture à ce niveau et à ce stade de la compétition, un rire permanent et odieux, un vide doctrinal sidéral.
Avec sa gouaille de poissonnière, son manque de hauteur et son irresponsabilité, elle a réussi l'exploit de présidentialiser son adversaire, pourtant terne jusque-là dans ses prestations, mais qui dans ce duel est resté calme, digne, pédagogue, professoral, maîtrisant ses dossiers et développant patiemment
son projet alors que Marine Le Pen n'avait rien à dire, rien à opposer.
.
Elle n'a fait que manier l'invective de façon aussi agressive que stérile. Pas un mot sur l'immigration
et la démographie, pas un mot sur le Grand Remplacement, sur la famille, sur l'identité et la sécurité, pas un mot sur la défense de la civilisation, sur les enjeux de ce scrutin, sur les graves dangers mena-
çant la survie et la pérennité du pays.
.
.
.
Elle pensait stupidement qu'à force d'aboyer, elle déstabiliserait son contradicteur qui sortirait de ses gonds. C'est elle en réalité qui s'est discréditée. On n'a jamais intérêt à sous-estimer un adversaire.
……I had this chat with a respected comrade:
[8:00:57 AM] R: The le pen ballot sheets already arrived torn at a large number of registered voters households. Numerous others received two macron sheets and zero le pen sheets. 
http://www.thegatewaypundit.com/2017/05/dirty-tricks-french-voters-receive-invalid-damaged-le-pen-ballots/
[8:01:48 AM | Edited 8:01:59 AM] John de Nugent: I am aware of and concede there was some of this. But how much?
[8:02:44 AM] John de Nugent: I was a victim myself of vote fraud.
[8:02:53 AM | Edited 8:03:08 AM] R: A sufficient number for Macron to get 66.06% (!) of votes.
[8:03:08 AM] John de Nugent: you did not read what I wrote, apparently
[8:03:21 AM] R: I did
[8:03:50 AM] John de Nugent: and you know he got 66.06…. how do you know that?
[8:04:11 AM] John de Nugent: Wiki says 66.1%
[8:04:24 AM] R: Wiki my arse…. saw it at a number of places
[8:05:08 AM] John de Nugent: the number 66.1 is the official number, not the Wiki number.
[8:05:12 AM] R: 66.1 is rounded up.
[8:05:33 AM] John de Nugent: well, that could be, but from that to claim she won is another thing. Why is Marine not protesting if she won?
[8:05:43 AM] R: Maybe it is just another WWF-style show fight? Maybe she has been ordered to let it go.
She would not have been allowed to get that close to winning the election if the Deep State did not have a way of controlling her. The whole thing is just a virtual reality. Completely rigged and choreographed.
.
…..Voting statistics
FINAL RESULTS OF THE PRESIDENTIAL RUN-OFF:
Eligible voters: 47,568,588
Abstentions: 12,101,416, 25.44% of voters
Actual Voters: 35,467,172, 74.56%
Voting blank: 3,019,724 ballots [unhappy with both choices]
Defaced ballots [not valid — torn]: 1,049,532 ballots  [unhappy with both choices]
Voters: 31,397,916, 66.01% of those registered
Emmanuel MACRON: 20,753,798 votes, 43,63% of all registered voters, 66,10% of actual voters
Marine LE PEN: 10,644,118 votes, 22,38% of registered voters, 33,90% of actual voters
.
…..Marine's mother Pierrette
This scumbag divorced her husband Jean-Marie, denounced him and his politics, and posted for Playboy. 
Before:
The President of the National Front Jean-Marie Le Pen poses with his wife Pierrette and their daughters, on May 1, 1974 in their Parisian apartment. (From left to right): Pierrette Le Pen, Yann, Marine, Jean-Marie Le Pen, and Marie-Caroline
After:
.
.
.
.
……See also
Marine's own niece has quit politics in protest against her "moderate" direction.
True nationalist Marion Maréchal-Le Pen, disgusted with her cucking aunt, reported about to resign from the Front National of her aunt Marine
……Paris then and now
.

.

…..Contact and support
…….Actual donations
–11 May 2017 check from G in Montana
–10 May 2017 Cash from M in Oregon
–9 May 2017 Cash from C in Rio Blanco 😉 , Florida and from V in Germany
–8 May 2017 Cash wrapped correctly in aluminum foil, accompanied by a nice card and letter — from repeat donor S in Germany
–5 May 2017 Paypal from J in Australia
–27 April 2017 Check from J in Utah
–27 April 2017 donation via Stripe from D in Australia
–26 April 2017 cash donation in the recommended aluminum foil and beautiful gift card from repeat donor M in Germany
Accompanying note in German
English translation
Hello, John!
I wish you a beautiful beginning of spring. Keep on fighting! Let me know when the card and content (20 euros) have arrived.
Germany awaken!
With comradely greetings,
Sebastian [XX]
–25 April 2017 Paypal to mhuffstickler@outlook.com from L in Scotland
–21 April 2017 cash donation by M in Oregon
–21 April 2017 Stripe donation by B in Denmark
–13 April 2017 check from G in Utah
—-13 April 2017 book from S in Idaho
–11 April 2017 cash from donor "Chad Bigly" 😉
–10 April 2017 book The Unseen Hand from an anonymous supporter
–5 April 2017 cash from S in Florida
–4 April 2017Â donations via PayPal from C in Connecticut, cash from C in New Jersey, and via Stripe from J in Utah
–30 March donations via PayPal from S in Germany
–9 March 2017 donations via PayPal from M in Scotland and B in Alabama
–7 March 2017 Euros and a book (Boa, written by a courageous child psychiatrist who uncovered an epidemic of police-protected child molesting on the Dutch island of Aruba), sent by A in Holland
–3 March 2017 Euros from A in Germany
Text:
"Dear Mr. de Nugent,

A much belated Happy New Year to you.

I hope you are doing well (and enjoy good health). I wish I could do more to support you financially. Alas, it is not possible. 

Like many others I work full-time yet can barely make ends meet. 

This system sucks big-time. Frugality or outright poverty for working (!) Germans, luxury for invaders, who never worked a day in their useless parasite lives.

Great.

However, this cannot last and something's got to give. 

Our lying, thieving political con men are not the solution. They are all part of the problem.

Divine intervention and retiribution, yes please!

I enjoyed your writing very much and learned a lot. Please be very vigilant and stay safe. All the best and ORION [Our race is our nation]. Down with ZOG! Â [initials of the sender]"
–2 March 2017 gift t-shirt from the Bahamas from J in North Carolina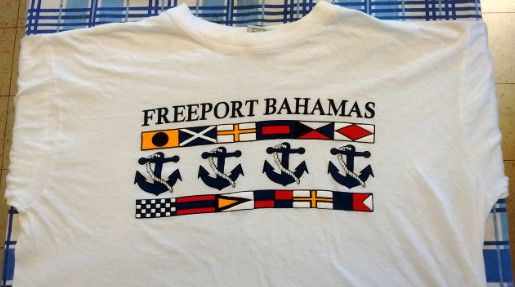 –1 March via Paypal from J in England to mhuffstickler@outlook.com
–28 February 2017 cash from a Haunebu base 😉
😉
–24 February 2017 donation via Stripe from P in Connecticut
–21 February 2017 cash from C in California
–14 February 2017 via Stripe (like PayPal) from M
–14 February 2017 cash from S in Florida
–6 February 2017 $39 from M in Minnesota and $20 and patriotic newspapers from B in California
–18 January 2017 cash from G in Maine, wrapped in aluminum foil
–17 January 2017 donation via Stripe from the generous and courageous Jamie Anderson of North Carolina (his name is used with his explicit permission)
(Jamie was one of the two key funders of the entire  Captain Ramsay/Nameless War project
Stripe is just as easy as PayPal. Please use it!
–12 January 2017 cash from C in Arizona
–11 January 2017 donation via Paypal to mhuffstickler@outlook.com from M in Florida
–3 January 2017 $20 cash from M and $20 check from K, both from California
–21 December 2016 gift card from S in Florida
From a fellow fmr Marine, this "Vanilla" Gift Card for $50: "John, Happy Christmas and Bright, Prosperous and Healthy 2017! — P[]"
–19 December 2016 PayPal from R in the Netherlands
–19 December 2016 cash and a Christmas card and note from B in Oregon
–16 December 2016 Donation of exactly $88 😉 via Stripe from JF with this notation:
Merry Christmas, John! To the man who gets calls from the White House, visits from the feds, and shut down more than anyone
—-12Â December 2016 book and videos on Christ from a new and interesting perspective, written by a fmr Marine, and sent to me by P in New Hampshire
–12Â December 2016 Book on early whites in America, including white copper miners in the Bronze Age — right here in Ontonagon 3000-1200 BC — sent by S in Idaho

–9 December 2016 cash from S in Germany
–2 Dec 2016 delightful box of home-baked goods and donation via PayPal (to mhuffstickler@outlook.com) from a Bavarian (in Germany)
Look at that evil bird on my monitor desktop  😉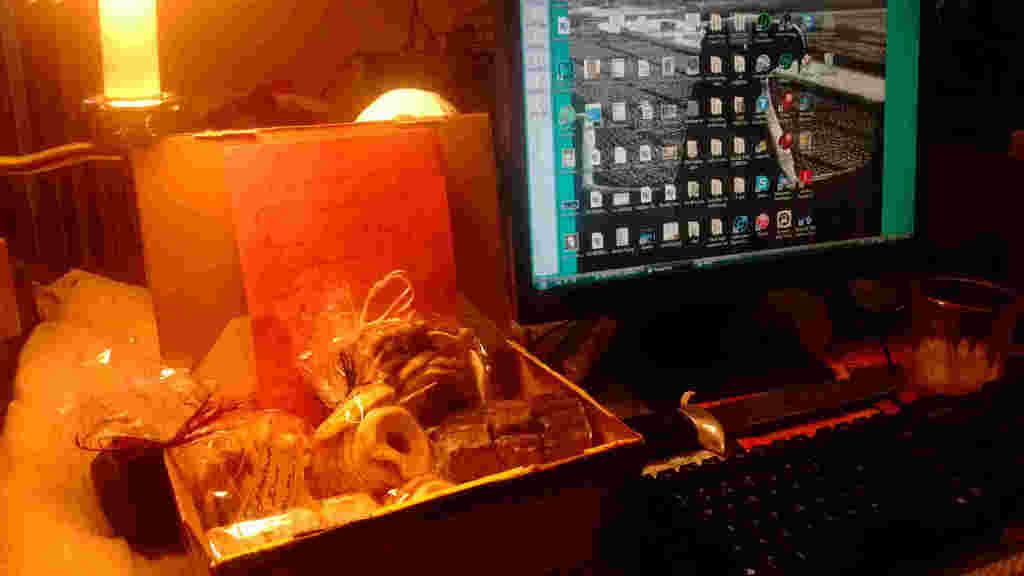 You can see my Snowball mike for recording audiobooks, such as Captain Ramsay's The Nameless War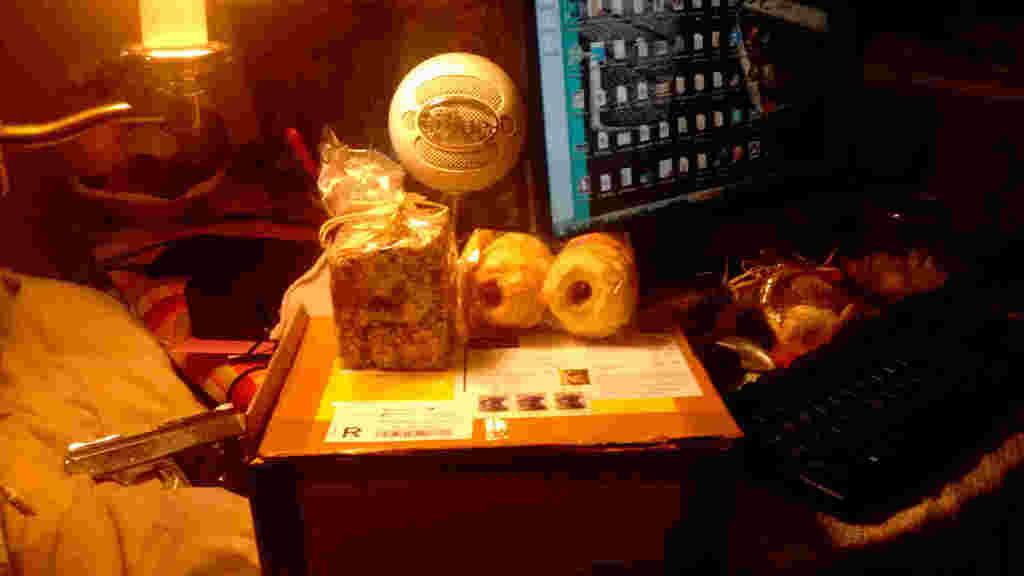 All lovingly handmade in Bavaria, where national socialism began, and based on healthful muesli. What a great present! 
–1 Dec 2016 cash from M in Massachusetts
–28 November 2016 cash from M in California
–28 November 2016 donation via Stripe from F in Nevada
–27 November 2016 donation via Paypal to mhuffstickelr@outlook.com  from H in Germany
–26 November 2016 cash from D in Massachusetts
–14 November 2016 cash from S in Florida
–11 November via PayPal from S in Germany
–8 November book from Amazon from comrade S in Idaho
–5 November via PP from M in Florida
–1 November 2016 via Stripe from B in Germany
–27 October 2016 cash donation from S in Idaho
–27 Â October 2016 cash donation from M in Oregon
–21 October 2016 cash with greeting card from Oregon
.
–